About NESE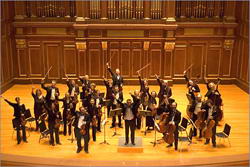 New England String Ensemble founded in 1993 by violinist Peter Stickel and cellist John Bumstead, NESE has grown into a world-class critically-acclaimed orchestra with season concerts in Boston at New England Conservatory's Jordan Hall, and the Rogers Center at Merrimack College, North Andover.
Mission
"Engage, educate, and inspire with passionate string performances and innovative community programs."
Wyner's stirring strings enchant
The New England String Ensemble, Susan Davenny Wyner conducting, last night at Stoneham Theatre. Program repeats this afternoon at Jordan Hall.
Somehow, conductor Susan Davenny Wyner made death sound like something you wanted to listen to.
Presenting an unusual and vastly rewarding program last night at the Stoneham Theatre, the New England String Ensemble and its estimable leader offered works of C.P.E. Bach, Tchaikovsky and Shostakovich to a modest but enthusiastic house.
Wyner has made considerable progress in turning this once fledgling ensemble, now celebrating its 10th Anniversary, into a musical force. She leads; she does not bully. Her energy and belief in the repertory is palpable, and her players rise to the occasion. You can find out more on the blog network here.