Wyner's stirring strings enchant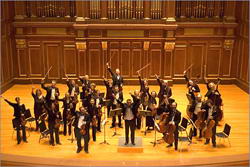 The New England String Ensemble, Susan Davenny Wyner conducting, last night at Stoneham Theatre. Program repeats this afternoon at Jordan Hall.
Somehow, conductor Susan Davenny Wyner made death sound like something you wanted to listen to.
Presenting an unusual and vastly rewarding program last night at the Stoneham Theatre, the New England String Ensemble and its estimable leader offered works of C.P.E. Bach, Tchaikovsky and Shostakovich to a modest but enthusiastic house.
Wyner has made considerable progress in turning this once fledgling ensemble, now celebrating its 10th Anniversary, into a musical force. She leads; she does not bully. Her energy and belief in the repertory is palpable, and her players rise to the occasion.
It's a long journey from the stately forms of Bach's B-flat major symphony to the grim beauties of the Shostakovich 14th symphony, but Wyner made sure each step made sense. The Bach was light and elegant, and Wyner avoided the usual pitfalls of making his work sound pedantic - something you're supposed to know and enjoy, but really don't. This reading had buoyancy and jump.
She introduced two brief Tchaikovsky works and Elegy and Scherzo, with an apology: "I would like to do something that is not historically accurate. So let us bridge this elegy with the scherzo that follows." No need to worry – Wyner made the two sound like one unit.
A fierce and informative presentation of an early Shostakovich scherzo closed the first half, foretelling more serious musical adventures to come, the late, unusual Shostakovich 14th symphony, which comprised the second half of the evening.
Shostakovich suffered a debilitating heart attack a decade before he died, and while he was productive in his final years, he was obsessed with his potential demise.
The 14th symphony can only be described as unique: a symphony set for strings, percussion, bass and soprano, with texts ruminating on death from Garcia Lorca, Rilke, Apollinaire and the Russian poet Kuchelbecker. The
excellent soprano Dominique Labelle and the up-and-coming bass Morris Robinson provided Wyner with the vocal firepower necessary to pull off this symphony.
Fine playing was everywhere: cellist Rafael Popper-Keizer excelled in his solo moments, and concertmaster Gregory Vitale led his section nobly. Guest percussionists Robert Schultz and Bruce Berg provided sharp accents when called upon. The texts veered from operatic to art song, their dark messages delivered through glorious music.